Need a Tree Stump Removed in Logan Brisbane?
With Decades of experience, Eden Trees has built a solid reputation as one of Brisbane's most experienced and trusted Tree & Stump removal providers. As a company, we pride ourselves on delivering unmatched customer service and satisfaction standards while at the same time offering some of the most competitive prices in the tree removal industry. With a strong focus on safety on any stump grinding job, fully qualified arborists who can complete the highest standard of work, and all the necessary insurances to match, there really is no need to look anywhere else.
OUR STUMP GRINDER EQUIPMENT
Eden Trees is constantly assessing the most effective machinery to provide the best quality service. Our range of 3 stump grinders allows us to get into some of the most difficult spots and grind both small and large stumps. Our machines range from smaller walk-behind grinders to larger 40hp Hydraulic Grinders on tracks. We now have a portable handheld grinder for those tight, hard to reach spots.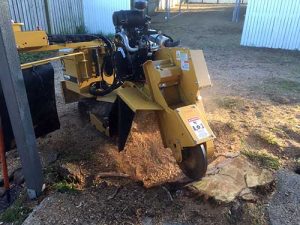 LARGE STUMP GRINDER
Our Rayco RG40 Stump Grinder has long been the reliable backyard stump grinder for professionals. Its 40hp engine power can take on large trees with maximum visibility while cutting.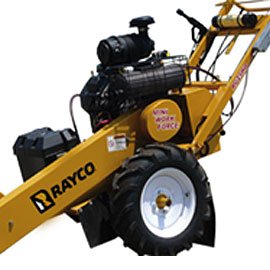 MID STUMP GRINDER
Our mid range grinder is ideal for those areas where access is a challenge for the RG40. Able to navigate over obstacles and difficult terrain, we will need a 780mm access point to get to your stump.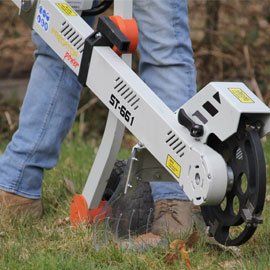 PORTABLE STUMP GRINDER
Light weight and compact our hand held stump grinder is for those smaller and delicate areas – like removing stumps from lawns and garden beds.
As experienced Arborists we understand about your trees and palm root systems. That means, we can offer the best advice to help provide the right solution to your tree stump or root problem. Don't sit by while that unpleasant tree stump ruins the look of your property. Dead tree stumps are an annoying eyesore and a silent danger and to your garden, family or property.
Reasons for wanting to remove a tree stump:
Unsightly – many stumps leave your yard looking untidy and like a job was left unfinished.
Dangerous – stumps left in your yard or gardens can be unsafe for your family and guests and are particularly dangerous when children are playing.
A Home for White Ants (Termites) – White Ants love making their home in dead stumps. Attracting them to your yard is never a good idea and can literally cost you your home.
Interfering – old stumps can take up valuable space in your garden and are often sitting right where you want to establish a new plant or tree.
Damaging – old stumps or exposed roots regularly damage mowers, cars and other equipment.
A Liability – any of the above can cost you time, money and energy when you least expect it.
How we go about it:
Ensuring a safe job site – including checking for underground utilities like water, power and phone lines.
Providing a professional experience – including prompt service, great communication and well presented staff.
Delivering a quality solution – including state of the art equipment, well trained staff and a tidy finish.
Eden Trees were awesome. They were the only company out of 3 or 4 that came out on site to quote and their quotes were less expensive than the others (who wouldn't even come out on site). The guys arrived on time, worked quickly, and were very friendly and personable. I would definitely use them again and probably will in the future! Thanks so much
-

Jai Stuart
6 days ago
Professional service and a quality job. Very happy with the result. I'll be using them again.
-

Paul Lee
4 weeks ago
Congratulations to Phil and the team for a job well done. It was a huge tree on a difficult site and the whole exercise was conducted in a thoroughly professional manner and at a competitive price. I was given a thank you note for choosing them and an unexpected gift of delicious brownies. Don't go anywhere else for your tree services. Choose Eden Trees every time.
-

Athol Woodford
1 month ago
Excellent service. Arrived on time. The staff that came to my property were excellent and worked really hard to remove two very large trees on my fence line. They took a lot of care to ensure that there was no damage to the fence or the neighbours property. Would definitely recommend Eden Trees. Five out five stars.
-

Darlene Murphy
1 month ago
I had a gigantic tree threatening my house and garden. I got several quotes. Eden was half the price of the most expensive quote. The quote was done very promptly and courteously. The removal itself was done by a highly competent and polite team. I could not be more pleased with the whole process. I unhesitantly fully recommend Eden.
-

Hugh Kunze
2 months ago
Highly recommend Eden Trees. Great communication and friendly service. Delivered top quality forest mulch.
-

Mark Hohl
2 months ago
We used Eden trees today to remove a 45 foot tree leaning too far into the street and seven other trees. In addition all trees removed including the large one had their stumps ground down. The Eden teams pricing was very good and the team themselves were on time, professional, and did an excellent job cleaning up and all without damaging my Neighbours large beloved Frangipani tree which had grown into our large tree. I could not recommend Eden trees more highly.
-

Rob Whiteley
4 months ago
Thanks boys for a great job. I'm very happy with the result and how you went about doing the job. I would not bother to get quotes elsewhere in future. I highly recommend Phil and team to all.
-

Wayne Pascoe
5 months ago
I have used Eden Trees service twice now, first one was couple of years ago. They did remove a small tree on my property, and I have to say that they did an excellent job on that one. Fast forward couple of years later to 2020, They did another tree removal on my backyard in a quite narrow garden bed. Phil and his team always performed the task carefully and professionally. The price is also reasonable.They also leave the site/location clean and tidy after they performed the work. Once again thank you Phil and the team and also to Kaitie who dealt with me through the booking and price quoting process. If you need tree removal service or anything regarding your trees, I would recommend Eden Trees for sure.
-

Mario Daenuwy
5 months ago
Brisbane Stump Grinding Cost Calculator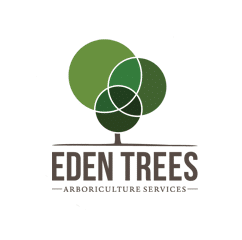 Provider Name
Eden Trees Arboriculture Services
,
1322-1334 Chambers Flat Rd
,
Chambers Flat
,
QLD
-
4133
,
Telephone No.07 5547 0934
Area
Description
Fast Service & Great Price tree stump removal service operating in Logan, Brisbane and Gold Coast